Live baccarat online is one of the most popular and fastest-growing games in the online casino industry. Baccarat's immense success in taking over online casino gambling can be attributed to its simplicity. There is a plethora of different versions of live casino baccarat available online that all requires different baccarat strategy to master. Apart from the usual punto banco, chemmy, and banque, some baccarat games offer special promotions and exciting jackpots.
In this guide you will find the best baccarat tips as well as some few useful baccarat strategy you can use to get the most out of this fun and exciting game. Featuring a set of many different side bets and excellent visuals, it offers an authentic online experience that will keep you coming back for more.
Top Live Casinos for Baccarat
How to Win
Are you looking for the best live baccarat online tips? Well, you are an in luck and you can start drawing up a kick-ass strategy thanks to the exclusive tips you'll find here. Baccarat strategy can get as deep and advanced when it comes to crunching numbers and bringing in the psychological aspects of the game but by following these simple tips when starting out you can give your money the best chances of going just that little bit further and hopefully far enough to mean the difference between walking away on top or escaping with—hopefully—nothing more than an inexpensive lesson!
Tip No. 1 – Manage your money well.
This is perhaps one of the most important baccarat tips of all. In essence, live baccarat online is all about betting a coin flip which makes it a pretty tight game. Player are therefore advised not spend more than their session bankroll since not losing in baccarat is a win of sorts.
If after winning a decent amount and you still have the urge to continue playing baccarat, then it is advisable to use up only a portion of your winnings to continue. This way, in case you lose you will still have a portion of your winning, preferably half of it, to brag about.
Tip No. 2 – Always ride the player bet until it loses.
This is also another essential baccarat strategy that you should follow. As soon as your Banker wins, bet on it immediately.
Tip No.3 – After a banker lose, you should wait out one decision.
If or when you finally lose on the Banker bet, don't continue betting right away. Instead, wait out one round and watch how the game plays out. Once the next decision has been made, follow with betting on that decision. Bear in mind, if the decision made is a Tie, then neither the Player or the Banker loses.
Tip No.4 – Banker is the best bet.
The first bet you should probably make at the live baccarat online table should probably be on the Banker. This baccarat strategy or tip is rather precise since the Banker will win slightly over 50 percent of the time.
Live Baccarat Rules
Live baccarat rules are very simple and easy to understand. Live baccarat online is played using the classic baccarat rules where each player can place Banker, Player or Tie bets either cumulatively or individually. If a player places a Banker bet and wins, he or she is paid 1:1 less a five-percent commission while if a player places a Tie bet and wins he or she is paid 8:1.
The easiest way to understand the game is to break the hand down into three separate stages, with the very first stage beginning right after the bets are placed.
The first stage – Both the player and the banker are each dealt two cards. Depending on the outcome of these two cards, the hands may at this point.
The second stage – The player will draw another card with some totals next
The third stage – Depending on the outcome of the second stage, the dealer will also draw another card.
Simple enough, right? Since the dealer handles the drawing of cards, the only thing you need to concern yourself with is to see who ends up with a hand nearest nine points, with 10s and picture cards counting as zero, and any hand over 10 points will have its left hand digit removed to be left with the right single digit as the hand's final total.
Other than the usual wagers, players are allowed the option of making some side bets listed below:
Banker/Player hand. – The player qualifies for an extra 11:1 payout if they placed a respective side bet and the Banker's or Player's hands comprise of cards of the same denomination.
Player Bonus. – This side bet wins in case the Player's hand turns out to be of a higher value than the Banker's hand. However, the payout amount is dependent on the margin between the two hands. For instance, if the Player's hand scores 8 and the Banker scores 2, Player wins by six points and the payout is awarded at 4:1.
Pro Baccarat Tips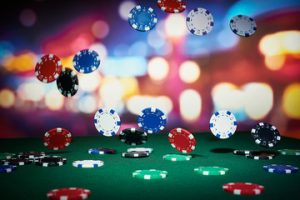 This game features a very fluid promotional structure that if optimized players can realize significantly increased rewards since all baccarat players are essentially earning cash back for every bet they place. Also, never ever bet on a tie since as a rule, live baccarat online casino games offer payouts of 9/1 or 8/1 on tie bets which may seem very tempting. Of course, it does! Just remember that the house edge on tie bets is 14% – so if it happens that you somehow, which you probably might, your losses might be too high for your own comfort. This brings us to the greatest tip of all which is: set and stick to your limits. This not only ensures that you steer clear from catastrophic losses but also ensures that you actually get to go home with your winnings.