New Jersey continues to dominate the regulated online gaming industry as it posts yet another record-setting monthly gross revenue of $20.6 million from its online casinos and poker sites – a 23.4 percent increase from 2016 – while the overall Atlantic City gambling numbers for October reached $206.3 million – a 0.3 percent decline without the strong figures from iGaming.
This month's fantastic performance pushes the year-to-date online gaming revenue to more than $200 million, a figure that is already $7.5 million more than any previous year's total since online gaming was legalized. And with 2 months left on the calendar, this record-breaking number will only climb higher.
Online Casino Is King
For the month of October, online casino leads the way with a GGR up 30.5 percent year-over-year at $18.63 million, while online poker was down yet again, declining 19.1% year-over-year at $1.9 million. Despite having hosted two major poker tournament series, this was the third-worst month of 2017. With the current state of online poker as it is, the only fix is the commencement of player sharing with Delaware and Nevada.
As usual, sitting comfortably at the top of the online casino market was Golden Nugget with GGR of $6.14 million, almost $2 million more than its closest competitor in Borgata with $4.18 million. In third place was Resorts Digital who recorded $3.47 million, just barely edging in front of the $3.46 million by Tropicana, and Caesars Interactive Entertainment once again came last with $3.31 million.
Why NJ Online Gaming Is Thriving
The primary reason why online gaming market in NJ is doing so well is because the state got its gaming regulation set up correctly right from the start – the 17.5 percent tax rate. This number is perfectly balanced to offer profits for the operator as well as benefitting the state.
This will likely be something that Pennsylvania will have to look back on once its online gambling market is setup with its absurdly high tax rate of 54 percent for online slots – the bread and butter of online casino games.
Atlantic City Back on Its Feet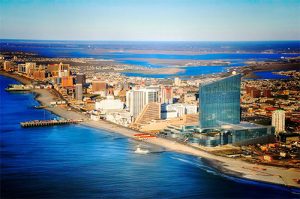 With the new Hard Rock Hotel & Casino Atlantic City scheduled to be opened in the summer of 2018, the city's gambling industry is finally showing glimmers of its former glory.
The new casino will bring the city's total count back up to 8, a number that many believe to be just right, as it will not be too overly saturated while having enough options to attract players to the gambling capital of the East Coast.
At its peak, the Boardwalk Empire recorded a $5.2 billion high in 2006. Then, with nearby Pennsylvania legalizing gambling, which resulted in the siphoning of the city's main business driver – Philadelphia – followed by a series of casino closures bringing the total number of casinos from 12 to 7, Atlantic City's gaming revenue plummeted more than 50 percent to $2.5 bullion 2015. Thankfully, 2016 saw the first gain in more than a decade with an annual revenue of $2.6 billion.
With more than 2 months to go, and the year-to-date total revenue at $2.2 billion, it is 2 percent improvement of the same time last year. Surely, as Golden Nugget General Manager Tom Pohlman once said, things can only get better from here.